OgreInfo
From ISXOgre
ogre info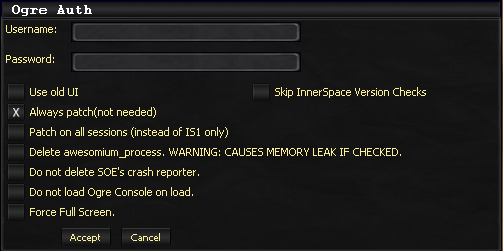 To load this UI, type the following into the console:
Username:
Your Ogrebot username (stored in ISXOgre.xml)
Password:
Your Ogrebot password (stored in ISXOgre.xml)
Use old UI
Loads a the login UI with more options (currently 'Use Old Skin' was added). This will switch back to the "eq2" skin instead of the "eq2ogre" skin.
Always Patch
When checked: Force the extension to check for new patches every time it's loaded, even if it's already patch during that session.
When unchecked (current behavior): Extension will only check for a new patch when initially loaded, and not again if it's unloaded and reloaded during that session.
Patch on all sessions
When checked: All sessions will try to patch when they are loaded.
When unchecked: Only IS1 (first session to be loaded) will try to patch.
Delete awesomium_process
When checked: ISXOgre will remove awesomium_process. NOTE: This will cause a memory leak that eventually leads to a crash.
When unchecked (current behavior): ISXOgre will not remove this extra process for those wishing to use the in-game browser.
Delete SOE crash reporter
Deletes the soe/dbg crash reporter so you do not upload crashes due to Innerspace.
Do not load ogre console on load
Does not load ogre console on load
Force full screen
Puts your window into full screen mode.
Skip Innerspace Version Checks
will stop ogre from checking your innerspace version upon load forever.

This is not recommended due to new Innerspace code being used in scripts.