OgreMerchantCraft
From ISXOgre
Main Overview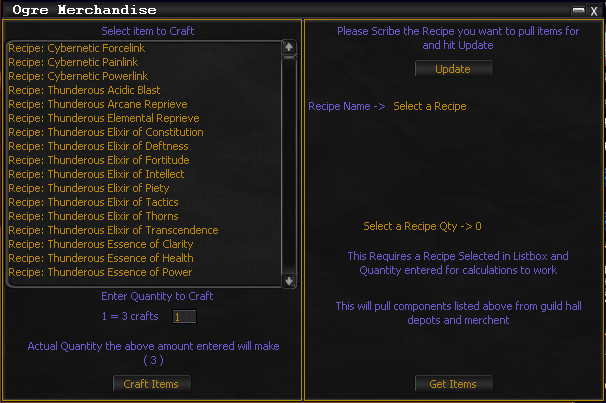 Summary
Allows you to craft limited use recipes from the status merchant while standing at the merchant.
Requirements
Must have 5 AA points in crafting stations tradeskill prestige tab.
Must have all components for the items you want to craft in your inventory.
Must target a merchant before you run this script.
Usage
to start the script ( ogre mc / ogre merchantcraft )
Target a merchant and then run the script.
Select a recipe from the recipe list.
Enter quantity you want to craft.
Check the quantity conversion is correct.
Pull Items from GH
Hit Update Button. ( this will poplate right side ui for you )
Call to GH with script still running.
Hit Get Items button to grab all the items you need from containers and fuel merchant.
Go back the the merchant.
Start Crafting
Hit Craft Items button to begin crafting